Here is "Mare Nostrum Serie," a series of four creations in A3 produced through Risography on Munich Pure 240 g/m2 paper.
Throughout these illustrations, I aimed to explore themes related to nature, the ocean and its inhabitants, ourselves as remarkable creatures, and the theme of maternity (which particularly resonates with me and my partner).
I am pleased to invite you to explore this new collection, which also embraces the ecological print process of Risography.
This sustainable printing technique involves cold printing and utilizes inks composed of vegetable oil, making it an environmentally friendly choice.
As an example, once printed using Risography, we achieve vibrant colors and a unique texture specific to this printing technique that a screen cannot truly replicate.

I had the opportunity to participate in the Color Riso Crew #2 exhibition organized by Eticc, which served as my stepping stone to finally delve into the world of risography. I absolutely fell in love with this printing technique.

Here are some images from the Color Riso Crew #2 exhibition, featuring the two members of Eticc: Céline Morissonaud and Gwenaëlle Lelardeux.
On this occasion, I produced two prints for the exhibition, and later created two more to complete this initial collection of Risographs, which were published in an edition of 50 copies by Eticc.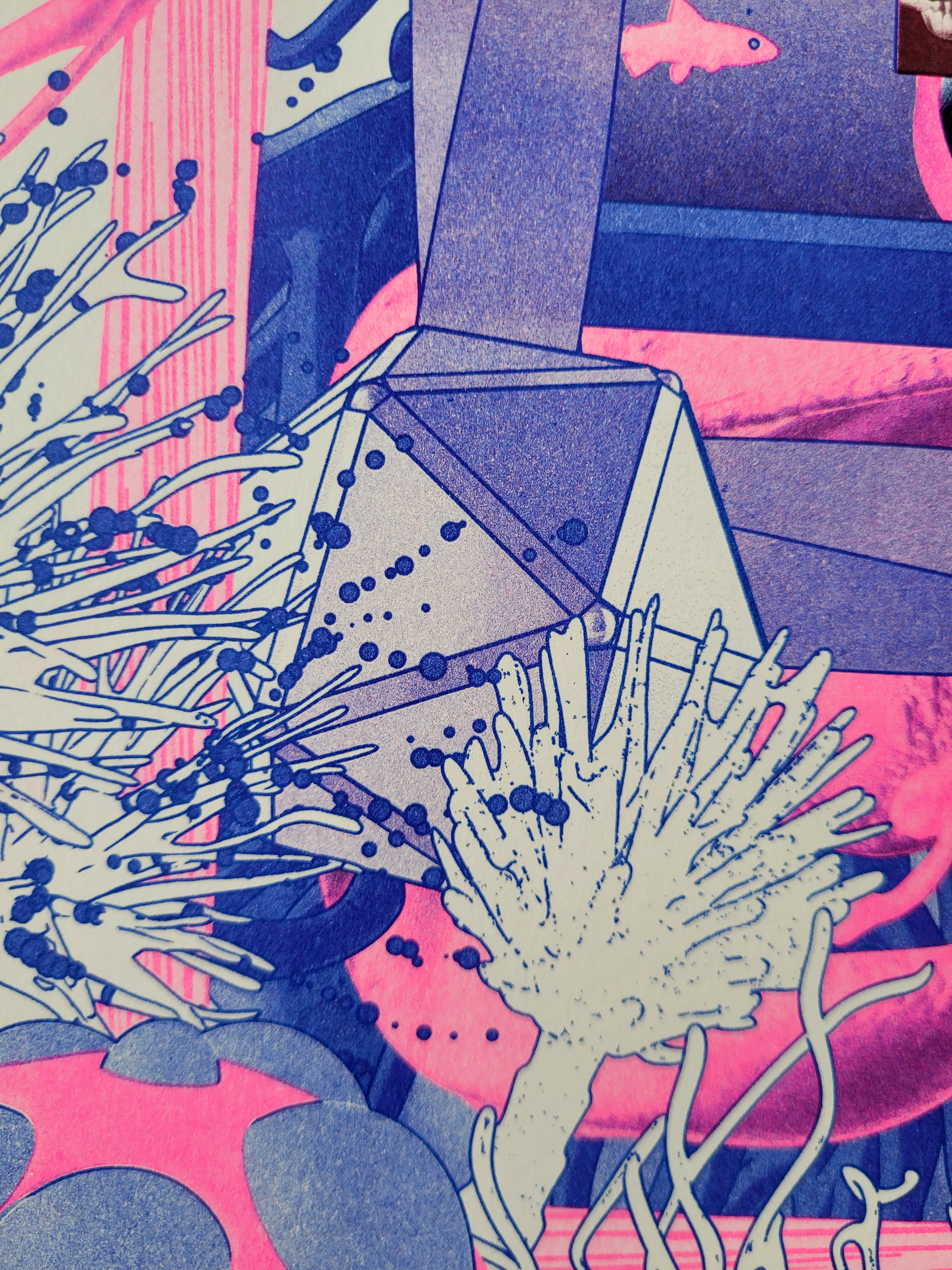 It's a multi-step process; each printing pass lays down two colors. In my case, I started with yellow and black, followed by magenta and dark blue, with a short drying time in between

Technically, these illustrations were composed using a variety of techniques, including 3D modeling, clear line rendering using Arnold, photo collage, as well as etchings and engravings generated by artificial intelligence (locally).

I also incorporated engravings from Gustave Doré and Félicien Rops, whose work I invite you to explore. The composition was finalized and colorized for Risography using Adobe Photoshop.
Contact me directly, and I will provide you with information on where and when you can obtain copies of this series.